14th international conference "Media in Modern World. Young Researchers"
March 05, 2015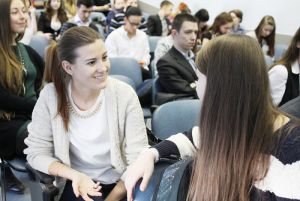 The annual conference "Media in Modern World. Young Researchers" which will take place on March 11-13, 2015. The conference is organized by the School of Journalism and Mass Communications" St Petersburg State University. Conference proceedings are be published online as a book of conference materials. The online book has its dateline, and every abstract placed in it is considered to be an independent publication.
Following the results of the conference, the works of the best speakers and finalists of the scientific works competition will be published in printed form.
To take part in the Conference and download your abstracts (up to 4 000 characters with spaces) you have to fill in an online application before February 8, 2015.
Sections and round tables
Russian Journalism in 18th-19-th century: evolution in a social and cultural context
Century in Russian historical opinion journalism
Print media: contemporary practice and functional effectiveness
Social issues in the mirror of television journalism
Heroes of television: Who? How? Why?
Journalism about scientific discoveries
Freedom of speech in the political culture of East and West
Media space of the Eurasian Union: strategies of development
Culture of understanding as a professional credo of a journalist
Ethics and aesthetics of speech behavior
PR in politics: Web 2.0
Technologies of media brand creation and promotion
Cross-platform in media design: paper plus digit
Media discourse in contemporary humanitarian research
Conference events
International competition of scientific works of bachelor, master and PhD students;
Seminar "St Petersburg journalism: personalities"
Seminar "The 70th anniversary of the Victory: contemporary approaches to the coverage of the history of the Great Patriotic War in mass media" (World War II).
Official invitations will be sent to the conference participants by co-leaders of the sections.
Co-leaders of the sections will inform participants whether their abstracts will be published or not. Everyone is welcome to the conference regardless of the publication of their abstract.
All events are held at School of Journalism and Mass Communications of St Petersburg State University.
Address: VO, 1 Line, 26; St. Petersburg (metro station "Vasileostrovskaya")
Foreign participants please address to
Anna Smoliarova
Research department
School of Journalism and Mass Communications
St Petersburg State University
Email: nauka@jf.pu.ru
Tel./Fax.: +7 812 328-4648
So far no comments