International research and practice seminar "Community Journalism: Experience and Scientific Research in Russia and abroad"
March 05, 2015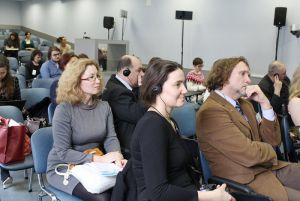 Call for applications: international seminar "Community Journalism: Experience and Scientific Research in Russia and abroad", March 10, 2015.
The following questions are planned to be discussed at the seminar:
1. Phenomenon of community journalism in Russia, USA and other countries of the world.
2. Community journalism: factor of social and cultural integration or fragmentation?
3. Functions and typology of community journalism, its thematic diversity, journalistic practices and technologies.
4. Experience of functioning of diaspora journalism, social groups, municipal units, interest groups and others.
5. Professional qualification of a community journalism member
Online registration is open till 9 march: http://jf.spbu.ru/jour-community/5347.html
Following the results of the seminar there will be issued a special periodical print publication (to be included into the Russian Science Citation Index). All proposals should be sent in electronic form to: ipk@jf.pu.ru with subject "Community journalism. Publication. Number of the section". Volume of the text – 10000-20000 signs including gaps.
See requirements to publication on: http://jf.spbu.ru/jour-community/
DEADLINE FOR SUBMISSION OF FULL PAPERS – March 10, 2015
All events are held at School of Journalism and Mass Communications of St Petersburg State University.
Address: VO, 1 Line, 26; St. Petersburg (metro station "Vasileostrovskaya")
Foreign participants please address to
Anna Smoliarova
Research department
School of Journalism and Mass Communications
St Petersburg State University
Email: nauka@jf.pu.ru
Tel./Fax.: +7 812 328-4648
So far no comments