"Censorship ruins the political system"
October 31, 2012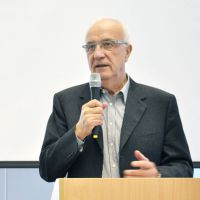 On October 22, the well-known German journalist Fritz Pleitgen spoke to the students of the School of Journalism and Mass Communications. Fritz Pleitgen worked as a foreign correspondent of the German TV in the Soviet Union in the 1970s. He was also chairman of First Channel of public television in Germany (ARD).
Pleitgen told students about the formation of the public TV and radio in the after-war Germany, stressing the impact of the BBC on the German model.
Pleitgen undelined that the freedom of speech is essential to any country: "Having control over the press may be comfortable for the politicians, but in long term it ruins the political system". Mr. Pleitgen told about the work of the independent supervisory board for TV and radio broadcasting in Germany as well as about the powerful defender of the press freedom in the country – the Constitutional Court of Germany. "If we feel that the pressure increases and there are attempts to affect us, we appeal to The Constitutional Court. And every time we manage to get protection", Pleitgen said.
Mr. Pleitgen was the first western journalist to have interview with the General Secretary of the Central Committee of CPSU Leonid Brezhnev. When asked by the students, he told the story behind the interview. It turned out that the interview wasn't planned and it was due to his journalistic audacity that he could talk to the soviet leader on the airport field in Belarus: "Brezhnev was very friendly during the interview". On the next days there was a photo of Brezhnev and Pleitgen on the first page of the popular soviet newspaper: "The bureaucrats understood that I was "an important person" and that helped me in my work as a foreign correspondent", Pleitgen said.
The event was organized in collaboration with the German Consulate in Saint Petersburg.
So far no comments