St Petersburg University Clinic of Communication Projects and Lenfilm launch joint project
April 22, 2022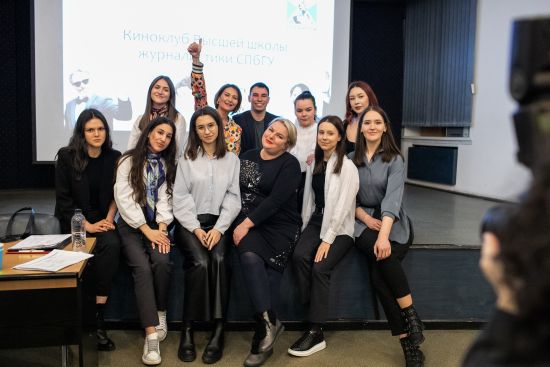 The St Petersburg University Clinic of Communication Projects and St Petersburg's foremost film studio have launched a new project entitled "Lenfilm: New Realities". It was kicked off at the opening of the Student Cinema Club's new season.
The event began with the presentation of this new team at the club. Involved in the project are first-year students, whose work is overseen by Polina Pandorina, a second-year master's student in the Media Communications programme.
Artemii Agrafenin, who graduated from St Petersburg University in 2013 and is Lenfilm's press secretary, was the Cinema Club's special guest.
He spoke about current motion picture production, the possibilities of the film studio, and the Cultural Exhibition Centre. He also presented several examples of Lenfilm's interaction with the audience from his own practical experience. He stressed the importance of cooperation with the University, thanks to which students will be able to undergo clinical practice at the film studio. 'We hope that students will not simply contribute new ideas, but also help put them into practice,' Mr Agrafenin noted.
Established eight years ago and functioning today according to the clinical model, the Cinema Club offers students two areas of practice: the organisation of film screenings and the preparation of informational materials on the production of films.
The names of the students who made it to the final stage of selection for the "Lenfilm: New Realities" project were announced at the meeting. Altogether, there were 57 applicants, of which 24 were selected. The trainees will be engaged in informational coverage of the filming process for feature films and documentaries, and also promotion of projects at the Lenfilm Cultural Exhibition Centre.
The 1985 film To Marry a Captain was also shown at the meeting of the Cinema Club. This showing brought together more than 60 film buffs, among whom were bachelor's and master's students from programmes in Journalism and in Advertising and Public Relations, their parents and friends, and also teachers at the University.
According to Ekaterina Sharkova, Director of the St Petersburg University Clinic of Communication Projects, in the eight years of its existence the Cinema Club has gathered a large audience. 'It is gratifying that this film from Lenfilm's golden collection, heart-warming and full of the right values, has struck a chord with young people and, at the same time, has attracted the older generation to the showing,' she added. 'Such events bring us all together.'
St Petersburg University students participated in the preparation of this material.
So far no comments