The 5th international conference "Comparative Media Studies in Today's World" successfully ended
April 17, 2017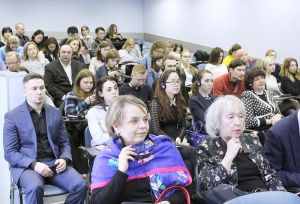 The 5th conference was dedicated to political and technilogical transformations of media systems in comparative perspective. Among keynote speakers were: Katrin Voltmer (UK), Silvio Waisbord (USA), Vaclav Stetka (UK), Elena Vartanova (Russia), and many others.
The conference was supported by U.S. Consulate General in Saint Petersburg, Friedrich Ebert Foundation in Russia, and Center for German and European Studies (St.Petersburg State Univertsity).
The program of the conference included plenary podium discussion, six sections, and two round tables. First day started with a workshop round table "Political Polarization and Professional Journalistic Practices in Germany and Russia". The event was organized within the German Week in Saint-Petersburg with a support of Friedrich Ebert Foundation, and Centre for German and European Studies (St. Petersburg State University). On the second day at plenary podium discussion participants discussed media transformations across cultures. With a keynote speeches spoke Silvio Waisbord, George Washington University, USA, "Are all populisms comparable? Insights from comparative media and communication studies", Elena Vartanova, Lomonosov Moscow State University, Russia, "Media transformations and path dependency: Limitations of transitional approaches", and Vaclav Stetka, Loughborough University, UK, "Social media, alt-news and the future of democracy in Central and Eastern Europe. Third day was the last of the conference "Comparative Media Studies in Today's World", and the first day of the 56th Annual Forum "Media in the Modern World".
You may find all presentations of the speakers lately on our website.
Photoarchive of the 3-days conference "Comparative Media Studies in Today's World" can be found here: jf.spbu.ru/photos/7314.html
So far no comments