World-famous researchers will meet in the Institute in the mid-April
April 06, 2017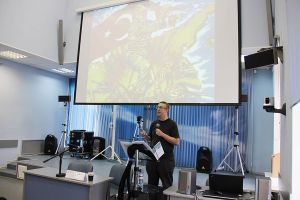 The 5th English-language conference "Comparative Media Studies in Today's World" will be opened with a round-table on journalistic work in the circumstances of political polarization of society.
Round table will be held on the 11th of April, Tuesday.
Time: 17:00 – 19:00
Languages: German, Russian
This event is organized within the German Week with a support of Friedrich Ebert Foundation and Centre for German and European Studies (St. Petersburg State University).
Experts of the round-table
The deputy head of the Friedrich Ebert Foundation's Russian branch Dr. Jens Hildebrandt,
Commissioning editor of the leading German weekly Zeit Online Meike Dülffer,
Famous European researcher in the field of political communication, the head of the project "Media, Conflict and Democratization" prof. Dr. Katrin Voltmer,
Deputy editor-in-chief of the Russian radiostation "Echo of Petersburg" Valery Nechay,
Columnist of Russian news agency "Rosbalt" Mikhail Turkin.
Moderator: Anna Litvinenko (Freie Universität, Berlin)
To participate in the event online registration is required. To register please follow the link:
https://sovet-mu.timepad.ru/event/472154/
So far no comments