Visit of the First Mayor of Hamburg will be held at SPSU
April 03, 2017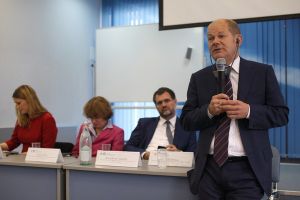 Visit of Olaf Scholz, the First Mayor and President of the Senate of the Free and Hanseatic City of Hamburg, and delegation of Hamburg Universities will take place at the Institute "The High School of Journalism and Mass Communications"
on the 6th of April
.
Time: 11:00 – 13:30
Room: 603
Within the visit, Mr.Scholz will take the floor on the issues of modern development of the EU and interaction between Germany and Russia. Afterwards all participants, including Russian and German professors and students, will be welcomed to the round table.
This is the second time when the First Mayor of Hamburg attend the Institute. Last year meeting was timed to the German Week in Saint Petersburg, and to the official visit program of the Mayor to Saint Petersburg, Hamburg's twin-city. Such events are crucial for both countries due to the support and developing of the long-term cooperation between Saint Petersburg State University, Universities of Hamburg, and other German cities.
All are warmly invited!
For more info, please see: http://www.hamburg.de/senat/2815136/olaf-scholz/
So far no comments