OSINSKI Vladimir
July 14, 2011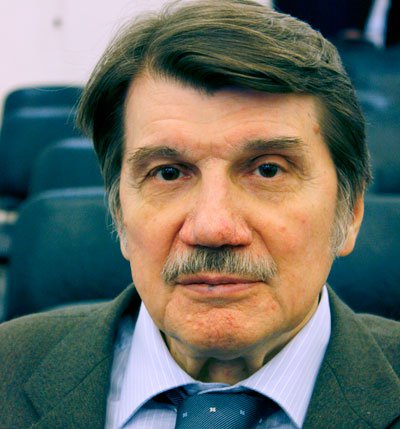 PhD in Philology (kandidat nauk), Associate Professor (dotsent)
Born 1935 in Leningrad, USSR
• 1954 - Graduated from School № 314 of the Frunzenskiy District, then served in the military as a sergeant in airfield construction troops;
• Prior to his entrance to Leningrad State University, contributed to such newspapers as "Smena", "Na Strazhe Rodiny" and some others;
• 1957 to 1962 - Attended the School of Journalism of the Philology Department, Leningrad State University;
• 1962 to 1964 - Reporter for the "Leningradskaya Pravda" newspaper culture section;
• Since 1974 - Member of the Journalist's Union;
• From 1964 - Executive Editor of training newspaper "Young Journalist" at the School of Journalism, Leningrad State University;
• From 1965 - Head of Radio and Television Class;
• From 1966 to 1970 - Teaching Assistant of Journalism Theory and Practice Academic Department;
• From 1970 - Teaching Assistant of the Radio and Television Academic Department;
• 1974 - Defended a dissertation thesis entitled "Historical Documentaries on Television"
• From 1977 - Associate Professor of the Radio and Television Academic Department;
• 1983 to 2001 — Head of the Radio and Television Academic Department.
V. G. Osinskiy has published over 300 articles for scientific, social and political publications. He has developed series of lectures "Basics of Creative Work of a Journalist", "Theory and Practice of Broadcast Journalism", special courses "The Effectiveness of Public Broadcasting Media: the Real and the Seeming" "History, Experience and Problems of Leningrad - Saint Petersburg Broadcasting News Media", as well as the program books for special seminars.
He conducts practical studies, supervises on-the-job training of students, as well as course and diploma papers. More than 20 students successfully defended their Candidate's Dissertation under his supervision. During the summers of the 1970's was in charge of student construction brigade newspapers "Molodoy Tselinnik" and "Leninskaya Smena".
For many years he has been an Assistant Dean in charge of student dormitory, member of the State Examination Board, the State Attestation Commission and the Faculty Instructional Committee. He has been a Trade-Union Committee Chairman, a member of an Editorial Board of many different publications as well as a member of an Arts Council in some of the Leningrad theaters.
He has constantly combined teaching and creative activities. He has anchored programs "Gorizont" and "Holst" on Leningrad television. He has been a scriptwriter of more than a dozen history and art documentaries on the television studios "Lennauchfilm", "Lentelefilm" and Leningrad Studio for Documentary Films, as well as a scriptwriter for some radio programs.
He has regularly written reviews of television programs and documentaries for newspapers "Leningradskaya Pravda", "Smena", "Vecherniy Leningrad", "Nevskoye Vremya". He has authored a television column for the newspaper "Vesti". He has written for the magazines "Nevskiy Nablyudatel'", "Baltiyskiye Sezony", "Nevskiy, 70", "Zvezda" and "Neva".
He has edited and compiled three collected volumes of "Radio-TV Faculty Says and shows". He has also published dozens of scientific articles in the digests and professional magazines. He has written educational books: "TV-Radio Information" (1987, coauthored); "TV Journalism. Background of the Genre Characteristics" (1992); "Made for TV Movie. In Search of the Specifics" (1994); "Multi-Episode Documentary" (1994); "TV-Radio Journalism. The Professional Frame of Reference" Vol II (2003, coauthored); "TV-Radio Journalism Course. Secrets of the Profession" (2004, coauthored).
Together with his colleagues, he further developed the subject of the unprecedented role of the radio in the life of residents of blockaded Leningrad during WWII. Two films were created about war-time radio, three collected volumes "Radio. Blockade. Leningrad", monograph "Call Signs of Courage". The monograph is accompanied by a two-hour long CD with authentic WWII Leningrad radio broadcasts.
He is a Full Member of International Informatization Academy. He has been awarded the "Honorary Worker of Higher Professional Education" badge and a commendation by the Governor of Saint-Petersburg. Twice he has been awarded the badge "Honor. Dignity. Professionalism" from the Union of Journalists of Russia. He has honorary titles "Veteran of Labor" and "Resident of Blockaded Leningrad".
So far no comments