Ukranian-American Documentarist Talks To The Students
December 19, 2014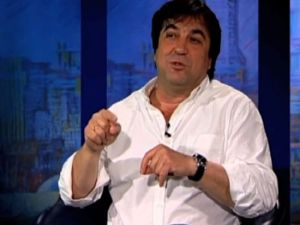 On December 17 American documentarist born in Ukraine Andrei Zagdansky showed one of his most successful films "Konstantin and Mouse" at the School of Journalism and Mass Communications of SPbU. The director also gave a lecture for the students of MA Program in documentary.
"Konstantin and Mouse" is a documentary about the avantgardist poet from St. Petersburg Konstantin Kuzminsky and his wife Emma (called "Mouse"). It was the first time Zagdansky showed this film in St. Petersburg. The documentary depicts a story of the emigrant poet, whose name in America is actually on a par with Joseph Brodsky. "Konstantin and Mouse" is the third Zagdansky's "film-portrait of Russian Americans". Despite the fact that the whole documentary lasts less than an hour, the work on it lasted for six years. "The first shot was taken in 1999, the last – in 2005", Andrei Zagdansky said. According to the director, it was extremely significant for him to show this documentary in St. Petersburg for the first time, because "Konstantin's world and vision were formed in St. Petersburg, but not in New-York, where he had moved to".
After the presentation Zagdansky shared his experience with students and gave some pieces of professional advice. In particular, the director mentioned that generally he works without any script in order to show the real life of his characters. Moreover, the director told about his favorite instrument "Inertia of meanings". It appears when characters' words penetrate into the picture. Zagdansky also called students for clear separation between a documentarist and a TV journalist. "If an author put his oar into characters' image, he doesn't watch them", Andrei Zagdansky noticed.
Viktoria Drey
So far no comments