Students from Hamburg and St. Petersburg live blog on media ethics conference
October 21, 2013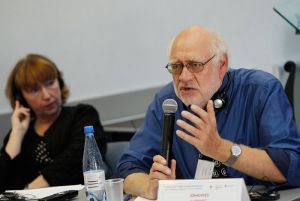 Conference "Ethics of Mass Communications: Research and Experiences in Russia and Germany" was held at the School of Journalism and Mass Communication SPbSU on 3-5th October, 2013.
Besides the differences several experts from Germany and Russia pointed out the obstacles that exist in countries across the world regarding media ethics and how technology influenced the work of media experts. Part of the workshop was an seminar that stressed the importance of intercultural communication. Seven students from the St. Petersburg State University and five students from the Hamburg University of Applied Sciences (HAW) took part in a liveblogging experiment about the conference.
No more trust in journalists?
Russian and German attendees participated in the debates, discussing such issues as a huge gap between theoretical and practical understanding of ethics in journalism, a conscious refuse of journalists to observe the ethical rules and the need to teach young reporters ethical standards at universities.
Steffen Burkhardt, Professor and director of International Media Center at Hamburg University, suggested that the economic crisis in media sphere was actually an ethical crisis, as nowadays the audience discredits journalists and no more trusts news reports.
Kamilla Nigmatullina, assistant professor at SPbSU, presented quite shocking results of the media research. She was a part of a team that conducted a survey among journalists in Saint Petersburg and found out that only 4 of 100 respondents respect the fact of not publishing private information.
"By now we can say that journalists society is not mature in moral aspect," said Nigmatillina.
Liveblogging rush
The seminar became a field for practicing live covering for a group of reporters from Russia and Germany. Two teams of journalists were actively liveblogging during the first day of the event. Everywhere you could see them, they were always editing-blogging-making photos, going to coffee-break not to relax but to gather more details.
According to Svetlana Bodrunova, chair of the Department of Media Design and IT in Media and also an organizer of the liveblogging part of the seminar, it is impossible to comprehend this work in theory, only practice is crucial, and this time a collective product was "a definite success in both cases, practically all the students performed well in their individual tasks, which is also very good". For the participants it was challenging and kind of stressful: almost all of them didn`t have any experience in liveblogging before, especially in English while the conference itself was hold in Russian and German.
As a result, everyone who wasn`t in conference hall could be "in" in the regime of real time, and everyone could choose which of two blogs he wants to read as far as journalists created them in two different ways.
" I did not expect that one of the teams would use the *** technique, as I did not orient the group towards it", Svetlana Bodrunova said. "More than that, one of the groups managed to find a new editorial structure that works well in emergency cases; I'm going to use this experience in future training on liveblogging."
Extending partnership
Liveblogging event was a breakthrough for participants from SPBU and Hamburg universities, who covered the conference on ethics in mass communications online in team. Seminar on liveblogging and conference on ethics in journalism brought up interesting issues, statistics on violation in ethics codes and knowledge on gained experience and tactics revealed by both German and Russian sides.
"Both countries have different problems in ethics sphere. While Germany works on theory, Russia is still struggling with mixture of Public Relations and Journalism sphere", said Anna Litvinenko, one of the co-manager of the liveblogging workshop.
The partnership with HAW Hamburg University brought unique experience for both Russian and German students.
"Russian and German perspectives in coverage of certain aspect, as an example human rights differ. There is a need for further exchange between two countries, and two universities", сoncluded Professor Steffen Burkhardt, the organizer of the seminar from the German part.
Elena Nikulicheva
Lidiya Chikalova
Florian Hagen
Darina Gribova
Varvara Kroz
So far no comments