Hands-on learning, opera theatres and dealing with the cold: Chinese student Mao Rundong shares his experience at SPbU
April 19, 2022
Mao Rundong came to Russia from China to study at SPbU School of Journalism and Mass Communications. Six years later, he is speaking fluent Russian, running business-projects and following a Master's programme at the department of International Relations. Mao Rundong loves listening to Tchaikovsky operas in Mariinsky theatre and calls himself "almost-guide" around the Hermitage, having visited it 20 times with friends and relatives who travelled to St Petersburg.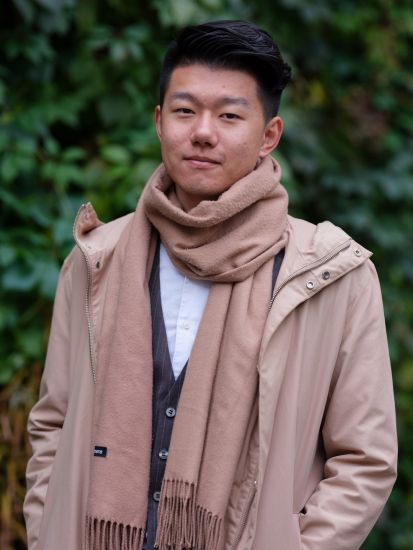 — How did you choose to come to Russia in the first place?
— As I was studying at school, I decided to enter a university abroad. Japan was my first choice, but at that time the relations between Japan and China got colder, and a class where I could learn Japanese didn't commence. So it was fate that I went with my second choice and began learning Russian.
Also, I was interested in Russian culture which is very popular in China. For example, Gogol, Chekhov and Tolstoy are quite famous; and we even read Pushkin poems in our Literature class.
— Have you been to Russia before coming to the university?
— No, it was the first time for me. As I arrived in St Petersburg in the morning and was driving along Moskovsky avenue I was surprised to see the buildings — they were so different from the ones we have in China. They all seemed low, the architecture looked European and at the same time reminded of the Soviet Union: it was like being in a movie.
— What influenced your choice of university?
— I decided to come to SPbU because of the city. At first I googled the images of St Petersburg and Moscow to compare them. Moscow appeared like such a big city, full of people. Also, I read some articles that said that Moscow had a very fast rhythm of life. And I personally prefer a more peaceful and relaxed atmosphere. So, I came across an image of St Petersburg which showed a wooden country house! I immediately thought: «This is probably my future university or dormitory», and began dreaming about living in this dacha, cooking dinners and studying. Obviously, I was quite surprised to see the real St Petersburg without any wooden houses.
— What is the difference between Russian and Chinese education systems?
— Let's take a game where you have to defeat «the boss» in order to win as a metaphor. In China, a professor leads the group after her/him, overlooking the students at every moment and helping them deal with challenges on their way to beat «the boss». While in Russia professors only point out «the boss» and you have to figure out a way to defeat him yourself. In that sense, Russian system gives the tools and provides you with more freedom. In St Petersburg, we need to dedicate a lot of time to self-study, reading and preparing for exams. Also, the studies at SPbU are way more practical. That is something I like, however, having to deal on my own with study tasks is not always enjoyable, sometimes it is too much for me.
— Could you tell about your study programme? What have you learned so far, what do you enjoy about it?
— I like the amount of practice. When I studied at Journalism School, we had a lot of hands-on experience. We visited theaters and I carried out the tasks of a press photographer for a faculty art group, while my classmates wrote articles and we published the materials together. In my current Faculty of International Relations we have a lot of training practice as well. For example, so far we have visited many organizations like the Union of Journalists, the Association for International Cooperation and the communication agency «BCA Marketing». We got to meet the management, who gave extremely interesting lectures for our group.
— Is it possible to get an internship at these institutions?
— Yes, as we've been told, it's possible.
— Does your Master programme help in figuring out future career opportunities?
— Yes, it definitely does. Internships and case-studies help to get an understanding of how the field actually works and it is very valuable for students. Also, it helps to choose a narrow direction that you are interested in. I haven't made a final decision yet, but I have a dream to work in international governmental PR or for a company in Russia. I used to run my own business project with China, exporting sunseed oil. But now the market is not as active, so it's better to rest a bit.
— Are you planning to stay in Russia or come back to China after graduation?
— I'm ready to live in any place of the world, I'm a free person! It only matters that the future job brings joy and a lot of money. But it is, of course, possible to develop an interesting career in Russia as well. There are a lot of opportunities to start business and organize cultural events among two countries — China and Russia. That is something I'm looking into at the moment.
— Is it expensive to live and study in St Petersburg?
— For sure, it is much cheaper than Europe, the US or Australia. My sister is going to study in Australia next year and it is very expensive there compared to our university. However, St Petersburg is slightly more expensive for me than China, because I pay tuition fees. If you get a budget-funded place, it is, of course, better.
— What do you think of the city? What are the things you like or dislike?
— Dislike? Well, I don't like the cold. I've got used to it but still don't enjoy it. Generally, the city is great. As for what I like, it is definitely art. I love art, especially music and opera.
— Have you been to Mariinsky theater?
— Yes of course, multiple times! My favorite opera is Evgeny Onegin by Tchaikovsky, I enjoy listening to classical music. That's the reason why I have a lot of friends who study at the Conservatory.
— And what about the Hermitage?
— Oh, I think I've been there about 20 times. Every time my friends or relatives from China came to visit St Petersburg they asked to take them to the Hermitage and the Russian Museum, so now I could almost be a guide at these places!
— Do you miss Chinese food?
— Definitely, yes. There are many types of groceries in China, and I feel like in Russia people only eat potatoes, noodles and meat. But there are some good-quality Chinese restaurants here. Also, it's possible to find the necessary products and cook for yourself.
— What advice would you give to international students who are considering coming to SPbU?
— I would definitely recommend them to come to our university! SPbU is already very well-known, it has a long history and many famous graduates. The most important thing is to learn the language! Everything else, personal knowledge will come later. And, of course, your main teacher in life is your interest. If you are not interested in the language or your study field, it might be difficult, especially in such cold weatherJ
— How do you cope with the cold?
— I just dress warmer, what else can you do?
So far no comments