6th Annual conference Comparative Media Studies in Today's World' 2018
April 10, 2018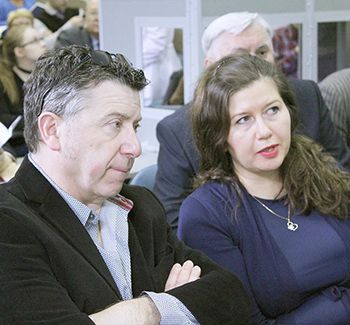 The theme of the 2018 – 'Emotions vs. Rationality in Mediated Discussions'. Emotions have always been part of the public discourse as a key baking agent polarizing social groups, helping to aggregate interests, and shaping decision-making. From protest solidarity to compassion fatigue, it is the emotions that distance the public sphere from its reason-based ideal and at the same time make the discussions more appealing to media audiences. And while rationality has produced a major line in media studies, emotions per se have been a smaller research focus. Today, we still lack knowledge on how emotional and rational arguments go together in mediated discussions, especially in comparative perspective.
And this lack has become even more acute in the 2010s, with the extreme 'emotionalization' of election campaigns and referenda, 'border-building thinking', the new rise of international militant rhetoric, use of televised shock by terrorists, and affective debates on social networks virtually everywhere including the USA, Europe, Russia, and the Middle East. In the climate of information spinning and alt-news, the Habermassian all-encompassing public sphere seems impossible as never before. But at the same time, computer-mediated communication has opened doors for cross-cultural solidarity campaigning on inequalities and human rights, as well as to opportunities of visual ad audiovisual expression of feelings on a mass scale.
Thus, the conference is seeking contributions that deal with rationality, irrationality, emotions and affects in mediated communication. We especially welcome comparative research but do not limit ourselves to it, as case studies may be crucial for understanding trends. The aim of the conference is to go beyond statements on 'fake news' and 'propaganda reborn' and to look deeper into causes and consequences of the communicative shifts of the recent times. We hope to link communication researchers to their colleagues in wider social sciences, including sociology, public memory studies, social psychology, and international relations, as well as to linguists, mathematicians, and computer scientists interested in media research.
Additional information
Since 2013, the conference has gathered experts in comparative media research, including Paolo Mancini, Larry Gross, Silvio Waisbord, Katrin Voltmer, Nico Carpentier, Susanne Fengler, Elena Vartanova, Thomas Hanitzsch, Daya Thussu and many others.
The conference is an integral part of 'Media in Modern World' Annual Forum which will be held by St. Petersburg State University for the 57th time in 2018. Thus, interested audience is ensured, and you may wish to take part in the Plenary Session (with simultaneous translation into English) and all sorts of discussions at the Annual Forum on April 19-20.
CMSTW 2018 PRELIMINARY PROGRAM
So far no comments