The public lecture of professor Colin Sparks
January 23, 2017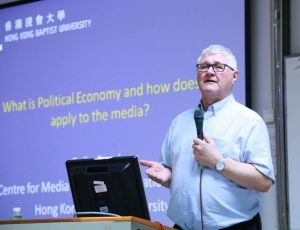 The public lecture of the leading worldwide known expert on comparative media studies and studies on media in transitional democracies Colin Sparks will be held on the January 30th at the Institute "School of Journalism and Mass Communications"
Professor Colin Sparks studied at Sussex, Oxford and Birmingham universities, receiving a doctoral degree from the Centre for Contemporary Cultural Studies. For many years, he taught at the University of Westminster, where he directed the Communication and Media Research Institute.
He works at the Hong Kong Baptist University as a Chair Professor, Media Studies, Department of Journalism, and as a Director of the Centre for Media and Communication Research.
Mr. Sparks is an editor of science magazine Media Culture and Society, SCOPUS; also, he is a chairperson of four more leading science magazines in the area of Media and Communications. Among Mr. Sparks' research interests are Media in transitional societies; Comparative media systems; Impact of new media on media systems. He is an author of one of the most cited article in the field of Media and Communications – «Media Systems in Transition: Poland, Russia, China» (2008).
The public event topic: «Modern approaches to the comparative study of media systems; media in transient conditions».
Public lection will be held on the January, 30th, Monday, 12:00, room 603
For more info, please visit: http://journalism.hkbu.edu.hk/staff/profCo...ColinSparks.php
So far no comments